Signature7 Mackerel & Pumpkin 70g
Tax included.
Spend

SAR 135

for FREE DELIVERY within Riyadh
Signature7 Mackerel & Pumpkin Complete Cat Food 70g

Specially formulated with Tuna oil for a healthy skin & coat, complete balanced diet for your cat's well being

 

#1 ingredient is REAL MEAT

 

– We know that cats are carnivores and need meat in their daily diet.
100% Complete and Balanced Diet

 

– All S7 cat food is formulated to meet the full nutritional requirements for your cat's meal for a 100% complete and balanced diet. Many other products out there DO NOT meet the nutritional values and can only be considered a snack or a treat.
AAFCO

 

–S7 recipes are formulated to meet the Association of American Feed Control Officials (AAFCO) standards. AAFCO is a non-profit organization that ensure that the pet food is safe for it's intended use for the intended species.
Protein

 

– S7 cat food is rich in quality protein and have the right ratio of protein. This satisfy your cats craving for meat, while maintaining their overall health.
Natural Vitamins and Minerals

 

– S7 cat food is antioxidant rich with vitamins E and C, along with essential vitamins like A, B and D. It also contains minerals such as Zinc, Phosphorous, Calcium and Taurine for supporting your cat's immune system.
Fats

 

– S7 premium quality cat food has the right amount of healthy fats essential to providing energy and maintaining healthy skin.

 
View full details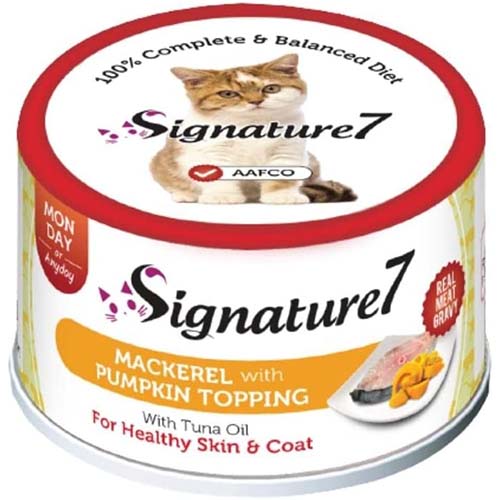 Signature7 Mackerel & Pumpkin 70g