Canvit Dog Multi Vitamin Activity and Support 100g
Tax included.
Spend

SAR 135

for FREE DELIVERY within Riyadh
Contains a balanced blend of 13 essential vitamins that aid overall health, support the immune system, memory and cardiovascular system.

Daily care vitamins:


Complex of 13 vitamins and lecithin for dogs actively supports health, metabolism, immunity and memory.
Vitamins play an important role in all metabolic processes in the body. They are necessary for the digestion, absorption and conversion of nutrients in body tissues and support the immune system and detoxification processes.
Vitamins promote proper growth, development, reproduction, immunity, and help maintain activity levels, condition, and general health.
The body requires increased vitamin intake during growth, illness, convalescence, pregnancy, lactation, and in old age.

Indications:

Promotes proper growth in puppies and dogs.
Supports pregnant and lactating females.
Boosts immunity during times of illness and convalescence.
Supports health, immunity, and memory in geriatric dogs.


Instruction:

The pill is given directly from the hand or ground into food.


Recommended daily dose:

1 tablespoon per 5 kg of body weight.
View full details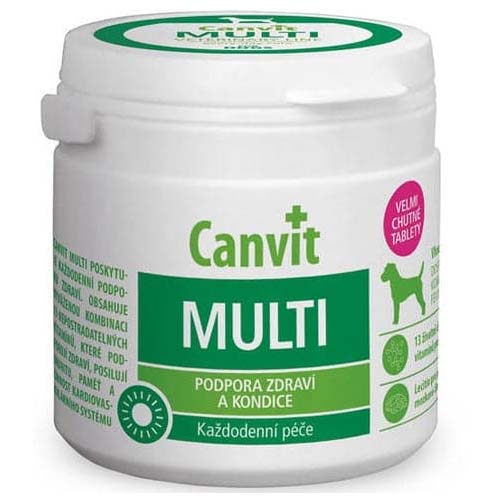 Canvit Dog Multi Vitamin Activity and Support 100g