Canvit Cat Chondro Natural Joint Supplement with Glucosamine, Collagen & Vitamin C 100g
Tax included.
Spend

SAR 135

for FREE DELIVERY within Riyadh
Canvit Chondroitin 100g is a supplement for cats that supports the health and mobility of their joints. It contains glucosamine, chondroitin, collagen, vitamin C and other ingredients that help to regenerate and protect the cartilage and ligaments of the joints. It is especially beneficial for growing, ageing or overweight cats that may suffer from joint problems or diseases such as osteoarthritis or hip dysplasia.

Some of the benefits and Indications of Canvit Chondroitin 100g are:


It slows down the breakdown and degeneration of the cartilage in the joints.
It improves the elasticity and strength of the cartilage and ligaments.
It reduces inflammation and pain in the joints.
It enhances the mobility and flexibility of the joints.
It supports the treatment of joint diseases such as osteoarthritis.

Instructions


Canvit Chondroitin 100g is easy to administer as tablets that can be given directly or mixed with food.
It is recommended to use it for at least 8-10 weeks and repeat after 3 months if needed.
A double dose is recommended for the first 2 weeks.
View full details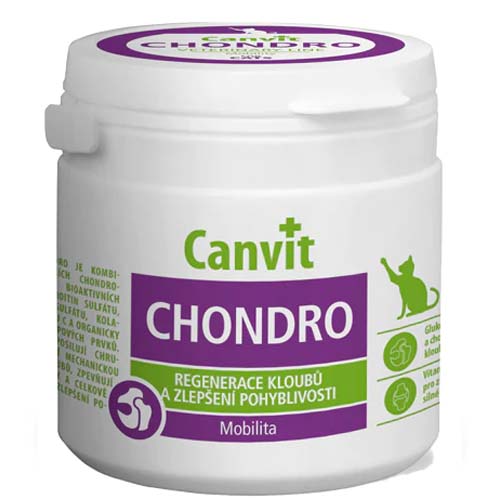 Canvit Cat Chondro Natural Joint Supplement with Glucosamine, Collagen & Vitamin C 100g